The Lake Como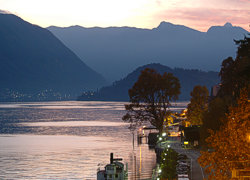 Lake Como is a glacial lake and has the characteristic shape of a "Y" upside down. The lake belongs to the provinces of Como and Lecco. The Lake Como is the deepest lake of Italy and one of the deepest lakes in Europe. The lowest point is near Argegno and is 416 meter deep. In addition, Lake Como is the third largest lake in Italy, after Lake Garda and Lake Maggiore.

The most important town is Como. This is also the place to which Lake Como owes its name. Como has a charming historic center, beautiful monuments and a lovely promenade. If you want to discover the beauty of the landscape and the lake, you can take the ferry or the hydrofoil. To enjoy the lake view, you can take the funicular to Brunate from Como. The second largest city is Lecco, famous for being the city of the Italian historical novel "Promessi Sposi".

Another impressive town is Cernobbio, home to two large villas: Villa d'Este and Villa Erba. Bellagio is known as the pearl of Lake Como, mainly for its attractive landscape. A little less known, but very charming is the island 'Isola Comacina': a small green jewel surrounded by the water of the lake. The island is also called 'Pompeii Lariana' because of ruins dating back to Roman times.